Skip to Content
Noah's Ark Restaurant in Des Moines
The Original Lacona Family
Restaurant Since 1946
Enjoy Lunch or Dinner in Our Casual, Laid-Back Atmosphere
For 75 years, Noah's Ark has offered Central Iowa residents an unforgettable dining experience. What began humbly in 1946 has evolved into one of Des Moines' most iconic Italian eateries today. Patrons love our casual, laid-back atmosphere, which is perfect for a relaxing lunch with coworkers or a night out on the town with your friends or sweetheart. Locals and tourists rave about the legendary pizza and high-quality imported Italian semolina pasta at our Italian restaurant. We also serve prime steak, fresh seafood, chicken dishes, decadent desserts, and superb coffee drinks on our vast menus. No visit is complete without stopping by our newly added bakery, but don't expect us to give away our mouthwatering homemade bread recipe. It's a closely guarded family secret!
About Noah's Ark Ristorante: Serving Central Iowa Since 1946
Noah's Ark is proud to be one of Des Moines' oldest and most beloved Italian restaurants, but we had to start somewhere. We opened on New Year's Eve 1946 as a small lunch counter with limited seating. From our humble beginnings to now, we've always had one goal in mind: to serve great homestyle food and introduce Neapolitan pizza to the Central Iowa region. Originating in Naples, Italy, Neapolitan pizza typically features a thin, airy crust, plenty of mozzarella cheese, vine-ripened tomatoes, basil, garlic, oregano, extra virgin olive oil, and a sprinkle of parmesan cheese on the top. Sometimes referred to as Margherita pizza, this now popular pie traces its U.S. roots to the early 20th century Italian immigrants in New York City. New York-style pizza with the trademark thin crust is a popular variant of this style.
There's More Than Just Our Legendary Pizza on Our Menus
While our Neapolitan pizza has undoubtedly put us on the map, you'll find many specialties of the house on our impressive lunch and dinner menus. We encourage you to try our famous Chicken Parmigiana en Casserole with Spaghettini, Veal Alla Mozzarella, or the pasta of your choice cooked al dente for an authentic taste of Italy. If you're not in the mood for pizza or pasta, be sure to try our Braised Prime Beef Tips, Golden Fried Chicken Dinner, Jumbo Louisiana Shrimp, or Catfish Dinner for Two. Begin your meal with toasted ravioli, garlic bread, or calzones, and be sure to top it all off with spumoni ice cream from our dessert selection. Just about everything is also available on our take-out menu if you'd rather enjoy a nice family meal from the comfort of home.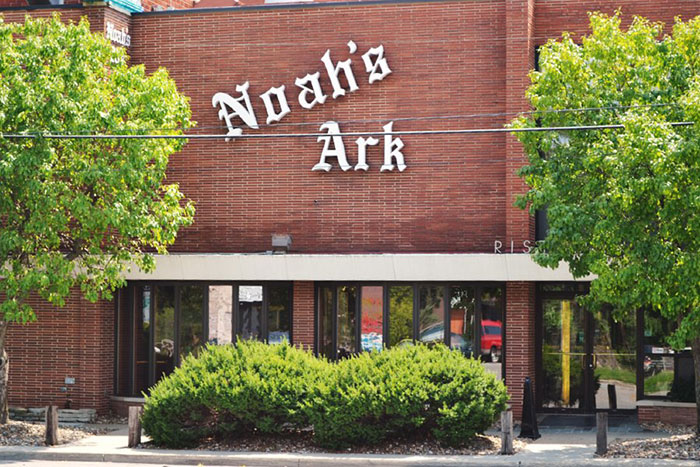 Host Your Next Special Event in One of Our Banquet Rooms
Are you planning a birthday party, wedding reception, or a corporate luncheon? Noah's Ark would be the perfect backdrop for your next special event. We have two banquet rooms to accommodate up to 75 people with customizable menus, host and cash bars, and ample parking available. Serve up the ultimate Italian buffet for your guests with homemade lasagna, rigatoni, cavatelli with meatballs, and our famous Neapolitan pizza, along with antipasto, fried calamari strips, toasted ravioli, and crowd-pleasing cannoli or cheesecake for dessert. We require a $100 deposit to reserve our banquet rooms and a $150 room rental fee for parties under 25 guests. Please reach out to us for more details as soon as you know your event's date and estimated number of guests. We will do our best to accommodate your requests.
Contact Us to Make Reservations for Lunch or Dinner Today
Our Italian eatery in Des Moines is open Wednesday through Saturday for lunch, dinner, and take-out. You'll find us conveniently located at 2400 Ingersoll Avenue, near Vogue Vision, SOLL Apartments, BAH Brazilian Steakhouse, and Teddy Maroon. Whether you dine here two-by-two with your significant other or with a large celebratory party of family, friends, or coworkers, you'll receive courteous service from our attentive wait staff. If you desire same-day reservations, please contact us to confirm our availability, as we tend to draw crowds at specific times of the day, week, or year. We look forward to serving you, so come see us soon. From our family to yours, "Buon Appetito!"
MAKE A RESERVATION
Open Wed-Sat: 11-2 for lunch, 4-9 for dinner
*same day reservations please call to confirm
Noah's Ark Restaurant
Address:
2400 Ingersoll Avenue
Des Moines, IA 50312
Phone:
Hours of Operation:
Lunch:
Wed-Sat – 11:00 AM – 2:00 PM
Dinner:
Wed-Sat – 4:00 PM – 9:00 PM
Noah's Ark, 2400 Ingersoll Avenue, Des Moines, IA, United States
Stop in to Try Our Legendary Pizza Today!