Skip to Content
Book Our Banquet Room in Des Moines, IA
Make It a Memorable Night with Noah's Ark Ristorante
Renowned for serving exquisite Italian food in Central Iowa since 1946, Noah's Ark Ristorante provides the perfect atmosphere for any special occasion. Whether you're planning a wedding reception, small corporate event, or casual birthday party, our beautiful banquet room in Des Moines would be happy to help you make it a memorable night for you and your guests. We take the stress out of event planning with packages to suit any budget without skimping on the robust, authentic Italian flavors our patrons have enjoyed for over 70 years. Choose from our legendary pizza, iconic homemade bread, or high-quality imported Italian semolina pasta for your event's menu. If your guests have any special dietary needs, we also do our best to accommodate them. Contact us to reserve our wedding Room today!
How Many Event Guests Can Noah's Ark Accommodate?
When it comes to small party venues in Des Moines, Noah's Ark ranks among the best banquet rooms. We have two rooms available to accommodate up to 75 people, as well as a flexible menu and an excellent wait staff at your disposal. From baby showers to birthday and anniversary galas, we've hosted events of all kinds in our party rooms. You may add a cash bar or host bar to ensure the wine keeps flowing all night for an unforgettable occasion that's sure to make you the toast of the town!
What's on the Reception or Party Menu at Noah's Ark?
Noah's Ark can customize our cuisine to create your dream reception or party menu. Start your guests off in style with hot or cold hors d'oeuvres, including toasted ravioli, calamari strips, shrimp cocktail, or Italian-style antipasto, followed by the ultimate Italian buffet with lasagna, chicken parmigiana, rigatoni, cavatelli with meatballs, baked homemade meat-filled ravioli, or our Neapolitan pizza, which has been called the best in Des Moines. Don't forget to top off the enchanted evening with one of our authentic Italian desserts – delectable cannoli, spumoni, or tiramisu!
Why Choose Noah's Ark Ristorante? A Local Favorite Since 1946
One of Central Iowa's oldest and most popular restaurants, Noah's Ark Ristorante began as a humble lunch counter with limited seating but expanded our space and menu over the years. Located at 2400 Ingersoll Avenue, we've become a local favorite for people to meet up for a quick lunch or dinner. We also offer take-out for those craving one of our specialty pizzas or calzones in the comfort of their home.
Reserve the Best Small Banquet Room in Des Moines, IA Today
Our small banquet room in Des Moines features parking and a private entrance on the upper level at the rear of our restaurant. A $100 deposit is required to reserve our banquet room for a specific date, but this will be applied to your final food bill. A $150 room rental fee will be applied to parties under 25 guests. All pricing is subject to change according to seasonal markets. Please contact us today for more details!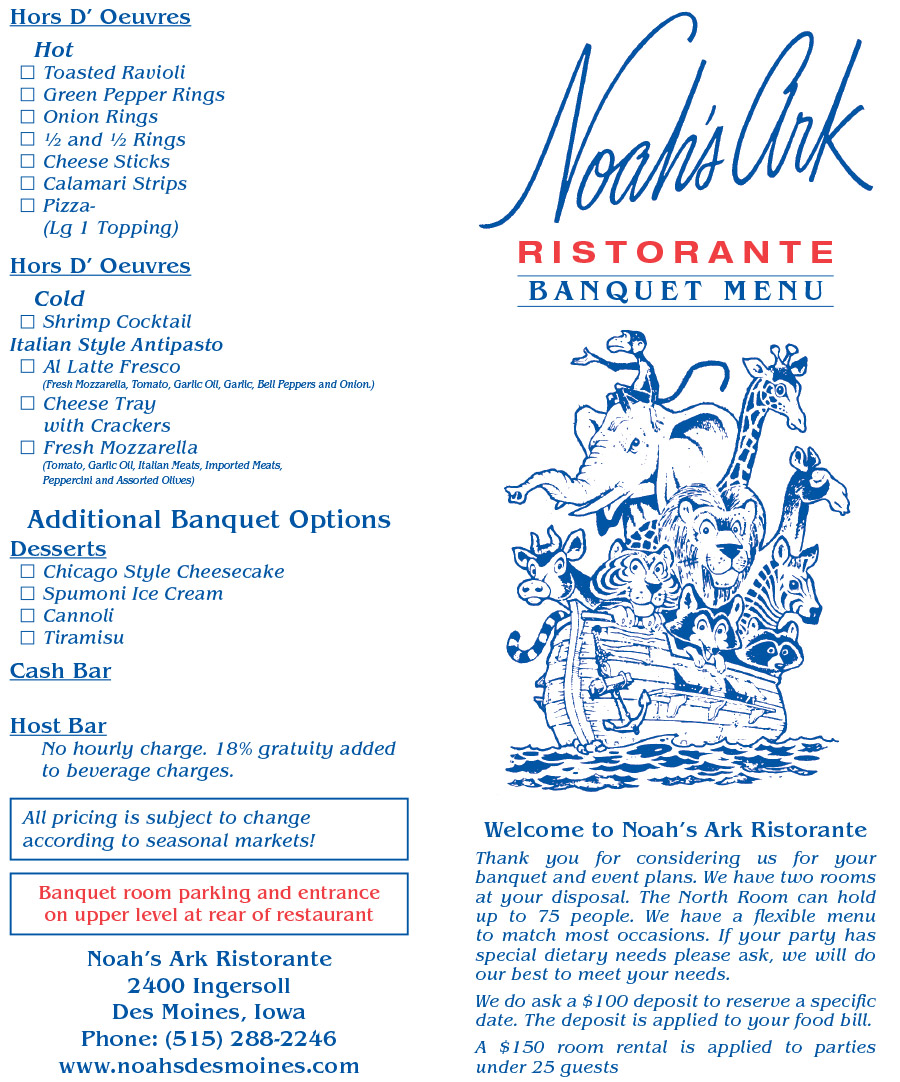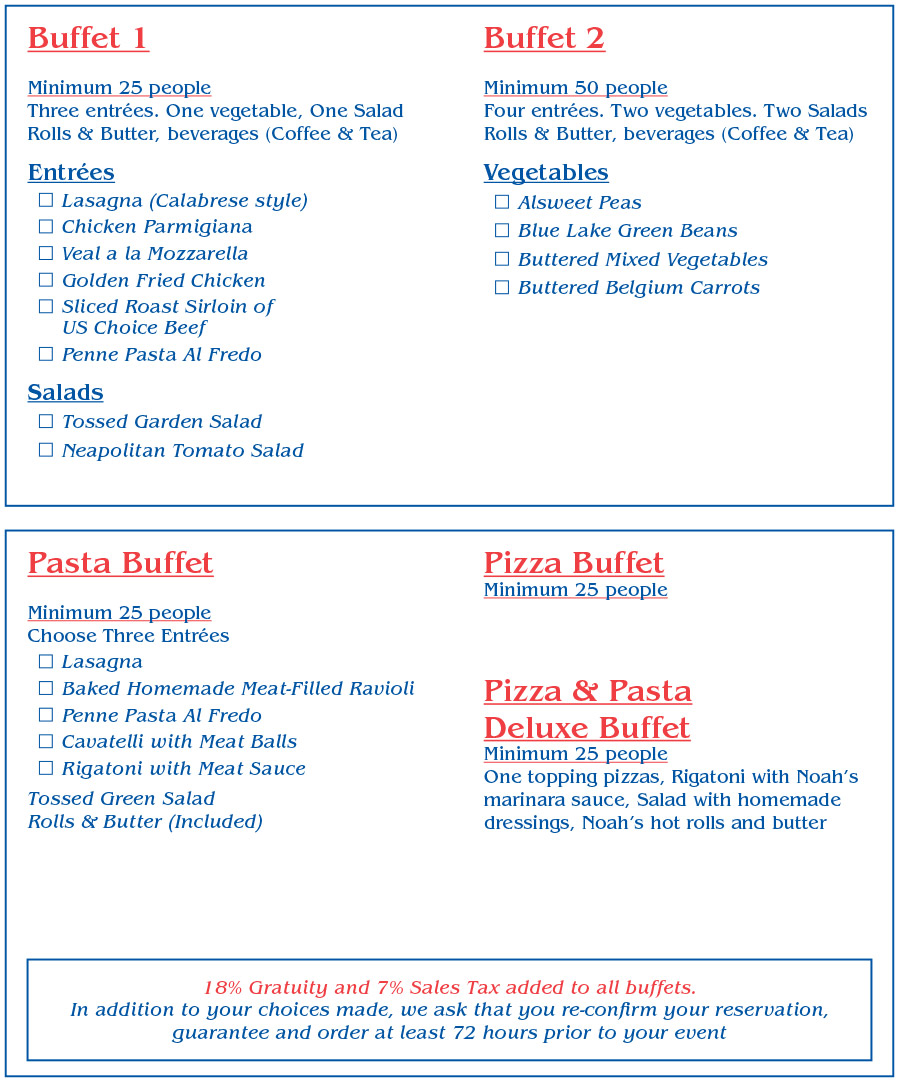 Check out our menu below! 
Stop in to Try Our Legendary Pizza Today!