Skip to Content
About Noah's Ark in Des Moines, Iowa
Noah's Ark Ristorante Started as a Humble Lunch Counter
Although Noah's Ark is now an in-demand Italian eatery in Des Moines, Iowa, our locally-owned restaurant started as a humble lunch counter with limited seating. Opened on New Year's Eve in 1946, we quickly began evolving with the times and focusing on offering authentic Italian dishes. Not only will you find traditional pasta cooked al dente and mouthwatering Neapolitan pizza on our lunch and dinner menus, but we also delight our patrons with steaks, chicken, fresh seafood, and many specialties of the house, including lasagna, chicken parmigiana, veal, prime beef tips, and Fettucine. Whether you prefer to dine in with us or order take-out to enjoy a relaxing meal at home, we aim to please with our exceptional customer service. Reach out to us today to place your order or make reservations.
How We've Evolved Our Restaurant and Menu Over the Years
In business for 75 years, we're proud of our rich history and enduring legacy. What began as a simple lunch counter catering to the 1940s working-class has evolved into a well-respected destination eatery in the modern era. Since opening, our goal has always been to serve great homestyle food and Italian dishes at affordable prices. Recognizing our growing popularity and the demand for a family-friendly restaurant in the neighborhood, we've made several changes to our property and menu since.
In 1953, we expanded our building to accommodate more people in our dining room. We continued our ongoing improvements by eventually adding banquet rooms on our upper level and an on-site bakery, putting Noah's Ark's homemade bread in high demand ever since. Whatever tomorrow holds, we will always be there for Des Moines and Central Iowa residents with a comfortable, laid-back atmosphere, courteous wait staff, and a diverse menu. If you're looking for a special place to celebrate life's many milestones with good food and even better company, you've come to the right place. We're now a premier destination for locals and tourists alike who are seeking a memorable dining experience.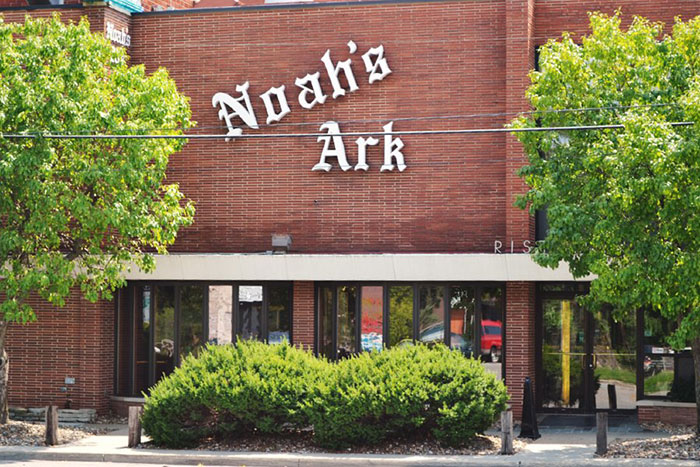 Often Referred to as "The Pizza King" of Des Moines for 75 Years
Often referred to as "The Pizza King" Noah Lacona introduced to Central Iowa delicious flavors of Neapolitan pizza crafted using homemade tomato sauce and premium toppings, our specialty pizzas and calzones have put us on the map with foodies. Not only are we home to the area's favorite pizza, but we also offer various Italian dishes, including spaghetti, rigatoni, Fettucine, cavatelli, lasagna, and more in generous portions. Our appetizers include shrimp cocktail, toasted ravioli, fried calamari strips, antipasto, garlic focaccia bread, and toasted garlic bread. If you're not in the mood for Italian cuisine, we provide plenty of other flavorful entrees, including center-cut pork chops, black Angus beef, fried chicken, catfish, and broiled lobster tail. Be sure to ask about our daily lunch and dinner specials.
There's a favorite saying among our friendly, seasoned staff members: "A meal without wine is like a day without sunshine." Be sure to pair our signature specialties of the house with a fine red, white, or pink wine for the ultimate feast for the senses. We also offer various fancy cappuccino and espresso blends perfectly paired with one of our most decadent desserts, including cannoli, spumoni ice cream, Chicago-style cheesecake, or San Francisco-style blackout cake. You won't ever leave our restaurant hungry!
Contact Us to Make Reservations for Dinner or a Special Event
Conveniently located at 2400 Ingersoll Avenue, Noah's Ark can be found near Vogue Vision, SOLL Apartments, BAH Brazilian Steakhouse, and Teddy Maroon's. Our Italian eatery is open Wednesday through Saturday for lunch, dinner, and take-out. We also have two banquet rooms available on our property's upper level for those looking for a fantastic space with ample parking to host their next special event. Treat your birthday party, wedding, or corporate luncheon guests to one of the finest Italian buffets in the area. We can accommodate up to 75 people with customizable menus and even a host or cash bar. If interested in reserving a table or banquet room at our establishment, we encourage you to contact us today to make reservations, as our restaurant tends to get crowded at certain times. We wish all of our patrons continued hearty appetites and the very best of health in the coming years. From our Noah's Ark family to yours, "Buon Appetito!" We hope to see all of you again soon!
Customer Reviews
Absolute best pizza lunch special in town! My coworker and I make it a weekly spot! Friendly staff and the place is so welcoming to all.
Last night we celebrated our 53rd wedding anniversary at Noahs. We have probably had our anniversary dinner there at least 30 times over the years. Has always been our favorite restaurant in Des Moines. Love the food and the service is always great. Margie is the best! It was the first place we ate when we came home from our honeymoon and had a family dinner there for my daughter's first birthday. Many celebrations and dinners there throughout the years. Their Italian food is second to none. I am glad of tradition has continued.
My wife and I have been eating at Noah's for almost 30 year's. We first went on our one year anniversary and they gave us a small bottle of champagne, and we have been eating here ever since. Now we can afford more expensive places, but we always come back for the great food friendly service and wide variety of chooses, from pizza too pasta or prime rib and lobster, it is all excellent. They have a very nice wine selection too and a full bar. The bread is made fresh and the garlic love Knots are the best. This is old Des Moines charm, enjoy.
Old time experience with awesome service. Been here many times and wait staff has always been top notch.
Old school restaurant with the best lasagna in town. Their lasagna is different than what you get most places but that is what makes it great. Give it a try.
Stop in to Try Our Legendary Pizza Today!