Skip to Content
About Noah's Ark in Des Moines, Iowa
Noah's Ark Opened on New Year's Eve 1946
Noah's Ark is one of Des Moines' oldest and most popular restaurants, but we had to start somewhere. Coming from humble beginnings, Noah's Ark opened on New Year's Eve 1946 as a very small lunch counter with limited seating. Our only goal was to serve great home-style food and introduce Neapolitan style pizza to Des Moines and Central Iowa. Since then, we have been constantly evolving with the times and started focusing our attention to providing the residents with exquisite Italian dishes, along with prime steaks, fresh seafood, chicken, and great desserts with superb coffee drinks.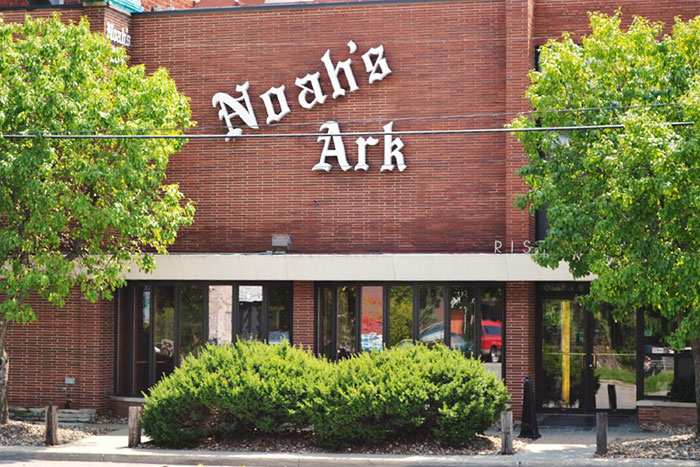 Providing the Area's Richest History
In 1953, we expanded our building to fit more people, and we slowly became the premier destination for residents who wanted a special night out on the town. We continued our expansion by adding a bakery, putting Noah's Ark's homemade bread in very high demand. Noah's Ark will always be there for the residents of Des Moines, providing the area's richest history, most comfortable atmosphere, and favorite pizza!
Customer Reviews
Absolute best pizza lunch special in town! My coworker and I make it a weekly spot! Friendly staff and the place is so welcoming to all.
Last night we celebrated our 53rd wedding anniversary at Noahs. We have probably had our anniversary dinner there at least 30 times over the years. Has always been our favorite restaurant in Des Moines. Love the food and the service is always great. Margie is the best! It was the first place we ate when we came home from our honeymoon and had a family dinner there for my daughter's first birthday. Many celebrations and dinners there throughout the years. Their Italian food is second to none. I am glad of tradition has continued.
My wife and I have been eating at Noah's for almost 30 year's. We first went on our one year anniversary and they gave us a small bottle of champagne, and we have been eating here ever since. Now we can afford more expensive places, but we always come back for the great food friendly service and wide variety of chooses, from pizza too pasta or prime rib and lobster, it is all excellent. They have a very nice wine selection too and a full bar. The bread is made fresh and the garlic love Knots are the best. This is old Des Moines charm, enjoy.
Old time experience with awesome service. Been here many times and wait staff has always been top notch.
Old school restaurant with the best lasagna in town. Their lasagna is different than what you get most places but that is what makes it great. Give it a try.
Stop in to Try Our Legendary Pizza Today!